Der Termin setht fest: 21.5.2022 – 18:00 Uhr (Start des Konzerts/Streams)
Hier buchen/Booking.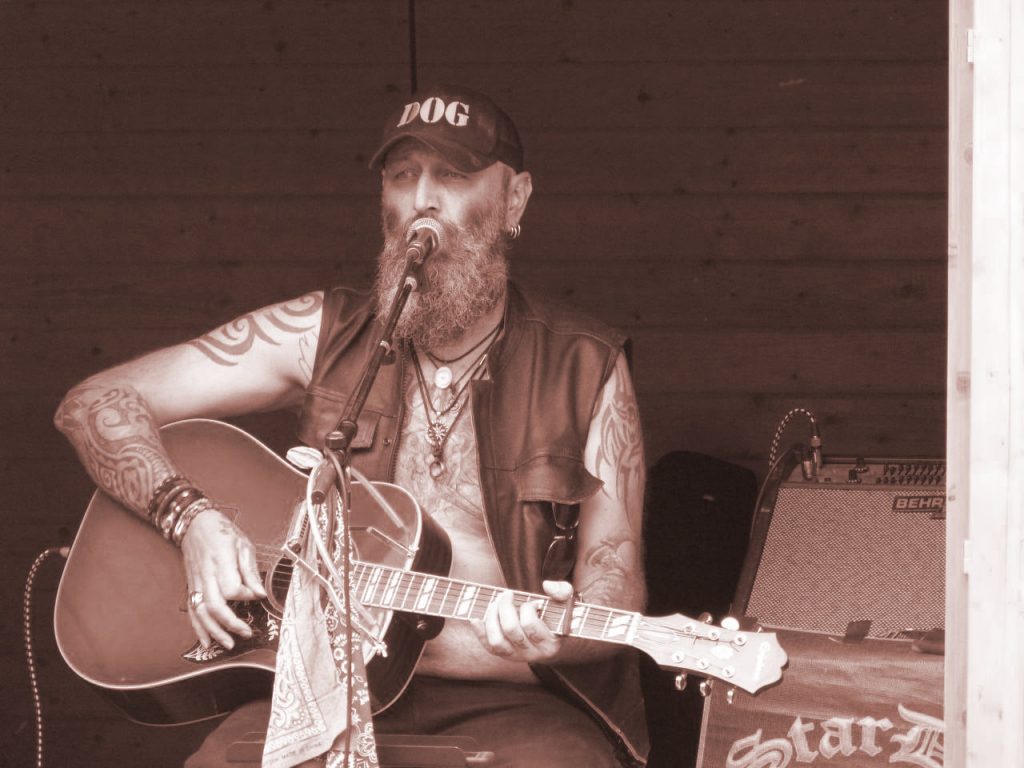 Es gibt sie, die Musiker, denen man ihr Herzblut, ihre Liebe und Leidenschaft zur Musik und ihre Authentizität ab dem ersten Ton anhört. Einer davon ist definitiv StarDog Champion. Ein kroatischer Singer/Songwriter, der in Bayern lebt und arbeitet.
Wenn man seine Musik in eine Schublade stecken sollte würde wahrscheinlich "Folk/Country Akustik Rock mit leichtem Blueseinschlag" draufstehen, aber in Wahrheit ist sie viel mehr. Und ganz oben der Begriff Songwriter, denn es sind neben der Qualitativ hochwertigen Musik vor allem die Texte, die beeindrucken. Sie handeln von Liebe, Schmerz, Tod, Verlust, Trennung, Verzweiflung, Hoffnung, Freundschaft, Erinnerungen. So wie das Leben eben einem spielt.
Und Lebenserfahrung hat er zu genüge:
Nach 30 Jahren Band-Erfahrung beschließt Sini Joldic sich als Soloartist zu verwirklichen und nimmt 2018 unter dem Namen "StarDog Champion" sein Solo-Debüt "from this Point … all alone!" auf. Erfolgreiche Auftritte in Deutschland, Österreich und Kroatien folgen.
Im Februar 2021 hat der Vollblutmusiker sein eigenes Label "Eleanor Entertainment" gegründet und dort Anfang März seine neue EP "Quarantäne Sessions" veröffentlicht. Auf diesem begeistert er nicht nur durch seine einprägsame Stimme sondern auch durch Tiefgang. Ein besinnliches Album, welches lange nachhallt und schwer beeindruckt.
Und wenn man genau hinhört, spürt man, dass der Songwriter in beiden Alben. Sein Leben, seine Gedanken und seine Gefühle offen gelegt hat. Zu Beginn noch etwas versteckter und "verschönert" – zum Ende gnadenlos offen und ehrlich. Ein Psychologe hätte wahrscheinlich große Freude an den Texten, aber als Hörer ist man einfach fasziniert und tief beeindruckt. So eine Ehrlichkeit erlebt man heutzutage selten und der Sänger spricht sicher Themen an, die viele von uns bereits durchlebt haben.
Sei es der Tod von den wichtigsten Menschen in unserem Leben, eine gescheiterte Ehe, Kinder – die dadurch verletzt werden, obwohl man sie so sehr liebt und schützen will oder das Scheitern im Beruf. Man hört zu, fühlt sich abgeholt und verstanden. Möchte dem Musiker danke sagen, dass da jemand ist, der genauso fühlt wie man selber. Der mit seinen Songs tröstet und versteht. Sich wahrscheinlich sogar selber getröstet, wenn nicht sogar gerettet hat.
In den letzten 2 Jahren spielte der Künstler vermehrt seine Gigs in Fußgängerzonen (Ulm Stuttgart, Augsburg, Dornbirn, Kroatien) da es bedingt durch Covid 19 vermehrt schwieriger wurde, unter normalen Umständen als Berufsmusiker seiner Tätigkeit nachzugehen.
They exist, the musicians, whose heart and soul, their love and passion for music and their authenticity can be heard from the first note. One of them is definitely StarDog Champion. A Croatian singer/songwriter living and working in Bavaria.
If you were to pigeonhole his music it would probably say "Folk/Country Acoustic Rock with a touch of Blues" but in truth it is much more. And right at the top is the term songwriter, because in addition to the high-quality music, it is above all the lyrics that impress. They are about love, pain, death, loss, separation, despair, hope, friendship, memories. Just like life plays out for you.
And he has enough life experience:
After 30 years of band experience, Sini Joldic decides to realize himself as a solo artist and in 2018 he records his solo debut "from this point … all alone!" under the name "StarDog Champion". Successful performances in Germany, Austria and Croatia follow.
In February 2021, the thoroughbred musician founded his own label "Eleanor Entertainment" and released his new EP "Quarantäne Sessions" there at the beginning of March. On this he not only inspires with his catchy voice but also with his depth. A contemplative album, which reverberates for a long time and is very impressive.
And if you listen carefully, you can feel that the songwriter on both albums. His life, his thoughts and his feelings revealed. At the beginning a little more hidden and "embellished" – at the end mercilessly open and honest. A psychologist would probably enjoy the lyrics very much, but as a listener you are simply fascinated and deeply impressed. Such honesty is rare these days and the singer is sure addressing issues many of us have already been through.
Be it the death of the most important people in our lives, a failed marriage, children – who are hurt by it, even though we love and want to protect them so much, or failure at work. You listen, feel picked up and understood. Want to say thank you to the musician that there is someone who feels the same as you do. Who comforts and understands with his songs. Probably even comforted himself if not saved himself.
In the last 2 years, the artist has increasingly played his gigs in pedestrian zones (Ulm Stuttgart, Augsburg, Dornbirn, Croatia) because Covid 19 has made it increasingly difficult to work as a professional musician under normal circumstances.